SportsArt E83 Review
If you were to search Google for elliptical machines, SportsArt would probably not show up in the first few pages of results. With its low-level marketing efforts, you wouldn't believe that the company has been in business for more than 30 years and produces a variety of high quality home and commercial fitness equipment, including treadmills, ellipticals, cycles, and steppers. The competition that exists in the fitness equipment industry has placed more pressure on manufacturers to produce quality equipment. SportsArt is one of the top contenders in the market. One aspect of their operation that makes them stand out from their competitors is the fact that they perform most of the tasks involved in design and manufacturing. One of the company's most praised machines is the SportsArt E83. This elliptical has won several awards and boasts many advanced features.
One of the most commendable features of the SportsArt E83 is not directly related to functionality, but in design. Elliptical machines aren't cheap, so when you purchase one you want it to last. The major components of the SportsArt E83 are steel-welded together and the equipment uses ball bearings instead of bushings. The pedals are created with the company's own MyFlex cushioning system. These features translate into the equipment facilitating workouts that are more comfortable and equipment that lasts longer than average. In addition, the more stable components also offer fewer repairs.
A key feature of any elliptical is its stride length. People are different sizes and heights and have different workout requirements. Users at either end of the height spectrum (short or tall), in particular, have a difficult time finding elliptical equipment that is suitable for their stride. The SportsArt E83 is unique in that you can manually adjust your stride anywhere in between 17 and 25.5 inches.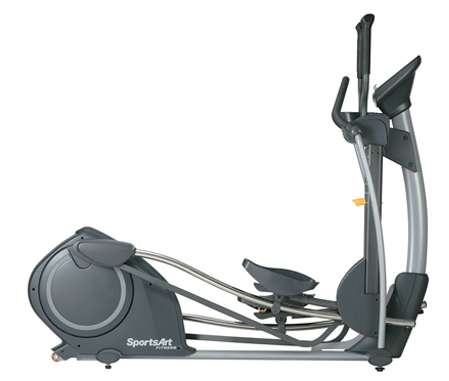 The SportsArt E83 contains features that are suitable for varying fitness levels. There are eight programs installed and 14 resistance levels. As you would expect, the SportsArt E83 includes an LED console (dot matrix) that allows you to view your heart rate, calories burned, distance traveled and other common readouts. The makers of the SportsArt E83 recognize the significance of heart rate to an effective workout. The machine includes three heart rate tools, including two trademarked technologies: Zone Trainer and CardioAdvisor. CardioAdvisor has been in the news recently because it is presently the only such system on the market that provides a total range of target heart rates. You simply look at the console for your current heart rate and then compare it to the readings of your low, middle, and high target heart rates. You can then make any necessary adjustments depending on the reading.
As you can see there are many positive features of the SportsArt E83, including its price tag of $2600. Finding a user with something negative to say about the SportsArt E83 is difficult. Most of the praise for this equipment is associated with is manual stride setting. In essence, this high-quality fitness equipment is appropriate for anyone interested in an elliptical that is durable, relatively inexpensive, and suitable for tall or short users.
Click here to see the product specs
---