Stamina AeroPilates Pro XP556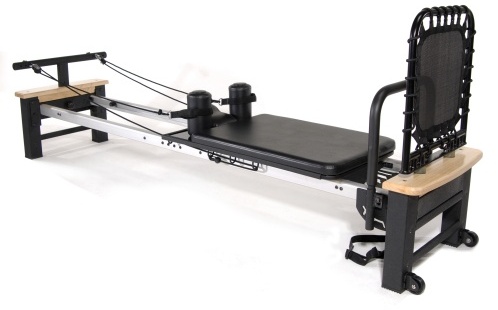 Pilates is a form of physical fitness that involves developing flexibility, core strength, and balance. With the advent of Pilates equipment for the home, you can now extend your workout to include cardiovascular exercise. There are several types of these machines on the market. The Stamina AeroPilates Pro XP556 Home Pilates Reformer with Free-Form Cardio Rebounder is one that has gained a lot of attention. Its name is a mouthful, but there appears to be more to this machine than a lengthy label.
There are similar Pilates machines on the market with Rebounders, but the Stamina AeroPilates Pro XP556 has a patent on the Free-Form Cardio Rebounder that resembles and functions as a mini trampoline that you jump on while lying down. What makes it different from other Rebounders is that it is raised higher from the ground, which allows you to perform exercises with more movements. You can use the Free-Form Cardio Rebounder to work your legs or use one or more of the cords to work both your upper and lower body.
The Stamina AeroPilates Pro XP556 is just about eight feet long and consists of four strong cords. You manage the equipment's four-level resistance using the cords. The footbar, headrest, handgrips, straps, and ropes are other adjustable features of this equipment. Tall users will appreciate the rails that are longer than those found on similar Rebounders.
The manufacturer of the Stamina AeroPilates Pro XP 556 includes two instructional DVDs and an exercise chart with the system to show how to use it to perform several different exercises. One DVD introduces users to the AeroPilates method with a level 1 routine. The second DVD is a short cardiovascular routine.
People who have used the Stamina AeroPilates Pro XP556 report favorable success with the equipment. The majority of negative feedback for the machine is in reference to assembly and space. Some users report that the machine is bulky and that one person is unable to assemble it him or herself. The equipment does not fold up, so it has to remain in its extended length. This is a source of discontent for many users because the machine is designed for home use where people typically don't want to use a lot of space.
Stamina, the manufacturer of the AeroPilates Pro XP556, has been in the business of developing and selling fitness equipment since the late 1980s. The company sells a variety of fitness products, including treadmills, elipticals, steppers, exercise bikes, and rowers. They also have a line of products that are sold through infomercials. Stamina offers six different Pilates machines and a multitude of Pilates workout DVDs.
Final Words: EER easily gives the Stamina AeroPilates Pro XP556 a thumbs up. The company has a reputation for providing quality products, and this machine is no exception. We believe the price tag and addition of a Cardio Rebounder are the machine's star qualities. With a price tag of about $900, this machine is way below the cost of similar fitness equipment.