Street Strider Review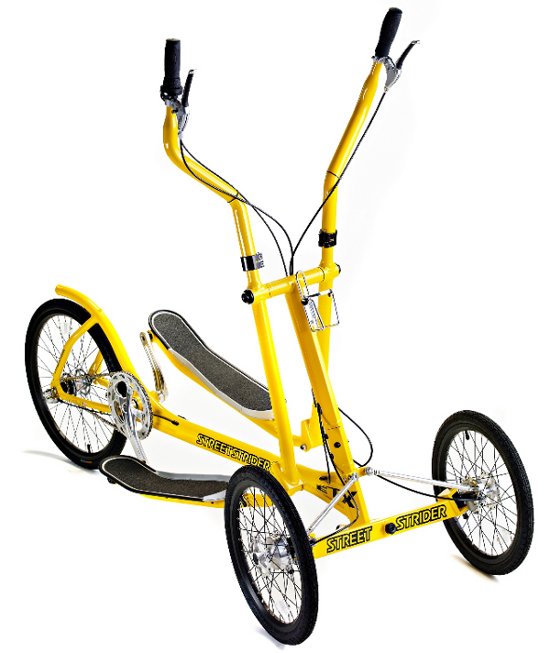 If you're a fan of the Biggest Loser, one piece of equipment that you may be familiar with is the Street Strider. If you haven't seen it on the show however and are someone who would like to take their standard elliptical workouts out into the fresh air, then this is one of the machines to consider.
The Street Strider can best be described as the elliptical on wheels. The company claims that you can burn up to 1000 calories per hour during your workouts and while there's no questioning the fact that it is an intense workout, you have to be leery about this type of claim. Even extremely fast running won't have you burning calories up at this rate, so be aware that this is likely an overestimate.
The Street Strider comes in a variety of different models that each have their own specifications. The models vary in the overall user weight capacity from 250 pounds all the way up to 400 pounds, so regardless of how heavy you are, you can find a model that will work for you.
In addition to this, you have models that offer handlebars and others that offer arm levers, so if it is a full body workout you're after, the arm levers will be most ideal.
The Street Strider comes in both single speed chainless and 8 speed transmission allowing those who want to work at variable speeds the opportunity to do so.
As far as the ability of the Street Strider to climb up hills, here again you have to pay attention to the particular model you're choosing to invest in. While some models are very well equipped to go up hills without a problem, others won't be as so and should be used primarily on flat ground.
One of the very nice things about the Street Strider machine is that the weight of the heaviest model only goes up to 53 pounds total, so these are considerably lighter than your average elliptical trainer. This makes them far easier for moving around and putting into storage if needed.
The highest capable speed of the top of the line Street Strider model assuming a 60-reps per minute pace is 19.4 miles per hour, with the other models coming in at slightly below this pace.
One of the biggest drawbacks about the Street Strider for many people will come at its price. Unless you're accustomed to purchasing higher priced fitness equipment, these don't come cheap with the top of the line model coming in just below $1700.
While this is still comparable with the higher rated elliptical models, for many people's budget's it may be a little too steep.
If you go down to a lower model you'll reduce your cost by about $400, so this can make it more manageable for many.
So if you're an outdoors enthusiast but at the same time love your elliptical workouts, then our Street Strider Review recommends this piece of equipment. It may just be the thing to allow you to take your workouts outside and still receive the same great fitness benefits that the elliptical has to offer.