Technogym Cardio Wave Review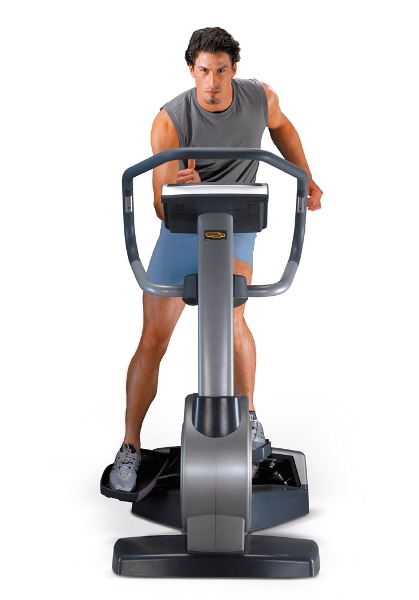 To the dismay of many enthusiastic people wanting to purchase fitness equipment for home use, there is typically a huge difference in the machines you use in a gym and what you can buy to use at home. In addition to being more durable, commercial equipment typically has more bells and whistles. One fitness machine for residential use that seems to dispute this tradition is the Technogym Cardio Wave.
As a testament to its innovativeness, the Cardio Wave machine has several components, relating to safety and comfort that have patents pending. The Cardio Wave looks very similar to an elliptical, but works different. Most fitness machines are designed to work on a single plane. The Cardio Wave uses three planes. Instead of moving your feet up and down or front to back, you move side to side. This motion enables you to obtain a 3-plane workout of your glutes, abductor, and rotator, which means you can receive a higher calorie burn and more muscle involvement.
There are five Cardio Wave models: 500iSP, 500i, 700i, 700iSP, and 700iE. Many manufacturers focus most advanced features with their top of the line models. This is not the case with the Cardio Wave. Most of the fitness-related features are available on all models. The main differences between the lower-end and higher-end models are the personal entertainment features. The lower-end models (500i and 500iSP) do not include independent pedals, fast track control, or telemetry (strap contact heart rate monitoring). Two of the models (500iSP and 700iSP) are cordless.
All of the Technogym Cardio Wave machines include 15 programs. There are the typical goal training programs that measure total calories burned, distance traveled, and total workout time. You can choose one of the preset programs that enable you to perform a quick start or test workout, or focus on weight loss, training, or heart rate fitness. There are six programs reserved to create personal profiles and one custom workout.
The Technogym Cardio Wave machines also include the same specifications. With 25 difficultly levels, you should never become bored with the Technogym Cardio Wave. All of the models are capable of an SPM (strides per minutes) range of 33-310 and have the same weight and measurements.
As suggested previously, the higher-end Cardio Wave model, the 700iE, is the only machine in the Cardio Wave series that includes personal entertainment features. This model includes a 12" LCD screen and includes analogue and digital TV receivers. There is also a digital radio.
Technogym, based in Cesena, Italy, is a mega producer of fitness and rehabilitative equipment. The company has provided fitness machines for four Olympic Games; Beijing being the most notable (supplied 1000 fitness machines).
User reviews of the Technogym Cardio Wave have been more favorable than negative. On the complimentary side, consumers rave about how the equipment is different from other machines, that they are able to burn many more calories than on other machines. People also like that the equipment has a built-in TV.
EER gives the Technogym Cardio Wave a thumbs up. We like that the manufacturer sought to use innovation to create a machine that provides a more physical workout instead of just making a better-looking machine. The machine's price tag (upwards of $3000) will probably scare off a lot people. However, we believe that even elite athletes will benefit from the lower-end model. We do wish that the machine provided a way to exercise the arms.