Total Body Trainer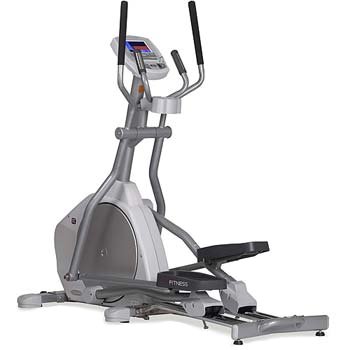 Exercise that contributes to cardiovascular fitness can have several different forms. In the perspective of machines that provide cardiovascular benefits, there are many different varieties. Most machines that involve you moving your upper and lower body parts are typically considered good choices for a total body workout. The 8810 Total Body Trainer is one such example. The equipment looks like a bicycle, elliptical, and stepper all rolled into one. How does it measure up to its name? Read on to discover what I learned about this machine.
The amount of resistance you can manage with a fitness machine is key to the range of work that you are able to perform. The 8810 Total Body Trainer includes 20 intensity settings. You also have six programs (two custom) from which to choose. The multi-color LCD screen may not have a lot to offer, but it does display common readouts to assist with managing a workout including distance, time, RPM, speed, calories, and heart rate. You can use the contact heart rate system to monitor your heart rate while you workout.
With a stride length that is very close to 20 inches and a weight capacity of 350 pounds, the Star Trac 8810 is able to support most individuals. As mentioned above, you can use this machine to obtain both an upper and lower-body workout. The resistance settings control both the pedals and arms. The combination of resistance control and total body movement means that you can obtain both a cardiovascular and strength-training workout.
The pedals on the Star Trac 8810 measure 7.75" x 15", and include 4.5 inches of space. This spacing is significant because it means that your joints are protected from damage that can result when repeating the same motion. The equipment weighs nearly 300 pounds, but includes transportation wheels for easy storage.
Star Trac has been providing fitness equipment all over the world since the mid 1970s. In addition to the 8810 Total Body Trainer, the company also manufactures treadmills, elliptical trainers, a stair climber, recumbent stationary bikes, and free weight machines.
The customer response for the 8810 Total Body Trainer is about average in comparison to its competitors. Customers point out that the control panel and the machine's price (just under $2000) are its most attractive features. Some customers have complained about the machine's mechanical sturdiness and lack of a pacer mechanism for motivation.
In the opinion of EER, the Star Trac 8810
is a decent fitness machine. In addition to providing a variety of workout programs and resistance levels, this machine is reasonably priced (about $2100). These are three key components of choosing a fitness machine. Our only wish is that the machine included settings for adjusting to the needs of different users.