Tower 200 Review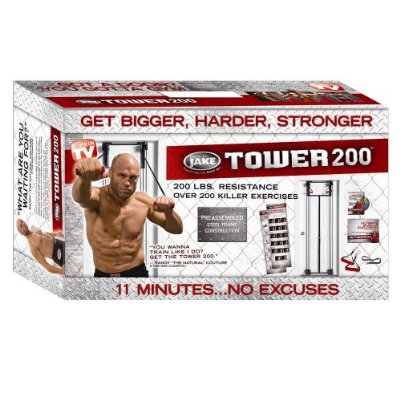 At one time, elaborate weight machines or simple dumbbells were the only options for people who were interested in performing strength-training exercises at home. In response to more and more people having limited time to exercise and wanting to exercise in the privacy of their own home, the fitness industry is starting to develop equipment that people can easily use at home. The Tower 200 is exercise equipment that seeks to solve this problem while providing a powerful workout.
The two most touted attributes of the Tower 200 are its simplicity and its ability to provide a powerhouse upper and lower-body strength-training routine within 11 minutes. No one can deny the equipment's simplicity. The equipment ships pre-assembled. All you need to do to set up the Tower 200 is slide the equipment on a door - reportedly, just about any door will do. This is a particularly attractive feature for individuals who travel and need equipment that sets up easy.
Once the equipment is secured to the top and bottom of the door of your choice, you can start you own routine or use one of the following resources that ship with the machine:
An 11-minute routine on DVD that is performed by Randy Couture, a 5-time MMA champion
Three additional DVD workouts
An exercise chart that you can post on the wall and follow
A starter guide
The exercise chart and starter guide both contain 200 different exercises that you can perform using the Tower 200.
OK, the Tower 200 is simple to use. How does the equipment stack up in the power department? The answer to that question depends on your level of fitness. You perform your exercise routine primarily using the power cords. For variety, you can also use ankle and hand grips that ship with the equipment. The product's infomercial features muscle-bound bodies going through tough-looking workouts that are facilitated by the equipment's supposedly 200-pound level of resistance. Essentially, if you already are working out with weight in excess of 200 pounds, the Tower 200 may not be suitable for you.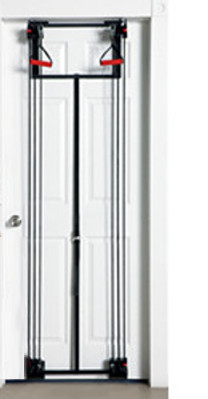 The Tower 200 is part of the Body by Jake line of exercise equipment, which was established in the 1990s. The company offers a variety of products that promote and motivate good health that are typically advertised on television infomercials. The Tower 200 is the company's most recent product offering.
Consumer reviews of the Tower 200 are very positive. As stated previously, many people are looking for exercise equipment that is easy and quick to use. In addition, people also want a decent workout without having to make a huge investment. Many people claim that the Tower 200 may not be as explosive as advertised, but does provide a good workout. Consumers of the Tower 200 are generally satisfied with the cost of the equipment, which is about $175.
The final word: EER gives the Tower 200 a thumbs up. The product is probably more suitable for people with limited time to exercise, people who need a portable form of exercise, or people who haven't worked out in a while or who are just starting to exercise. We also give the equipment points for being easy to use and for offering people the opportunity to perform numerous exercises. The equipment is marketed to a male audience, but women would also be well suited to use this. Lastly, the 11-minute workout routine is mostly hype and EER would recommend a much longer workout period to achieve maximum success with this piece of equipment.