VQ Resistance Chair
For many people, exercising can be difficult or even dangerous due to their health condition, surgery or other medical issues. For anyone who has problems with balance, strength or flexibility, the VQ Action Care Resistance Chair can be the perfect solution. The chair system has been recommended and used by health professionals and is suitable for all fitness levels. Used in gyms, rehabilitation centers and senior citizen centers, the chair program includes not only the chair itself but other components to allow the user to work both the upper and lower body without having to stand up or be unsafe in any way.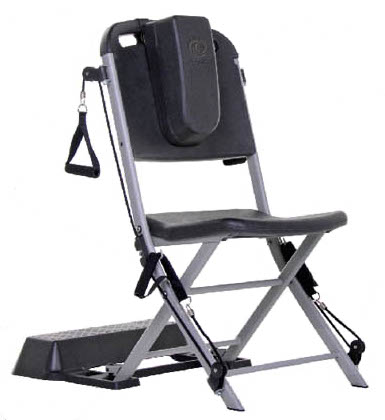 Included in the package
When you order the VQ Action Care Resistance Chair you get the chair itself plus the health step attachment, the posture prop back support, four resistance anchor cables, an owner's manual and a wall chart.
The chair's construction
The resistance chair is made of thick wall steel tubing which is very sturdy. Commercial-grade construction allows the chair to see very frequent use in rehab centers, gyms, and other commercial or private uses. The chair has been tested to hold up to 400 pounds.
Bonus features
The chair is not only safe and easy to use, it is also ready to use right out of the box with no assembly required. It is a low impact exercise system and uses smooth resistance for non-jerky exercise that can be used even by those who are recovering from surgery. The chair itself is offered for $239.70 with an additional $29.95 shipping and handling charge. (The cost is $135.00 for shipping and handling to Alaska and Hawaii). The chair can be sent as a gift and can be returned, no questions asked, for 30 days. Included in the package are two DVDs, Strong Heart and Leisurely Living (a $39.90 value). Users can sign up for the Action Care Newsletter as well as for the blog, where they can post comments and read inspirational stories of others.
Benefits of the chair system
The VQ Action Care Resistance Chair is perfect for anyone who has limited mobility or issues with stability and balance. It is lightweight and stores easily so that it can be put away when it is not being used. All exercises can be done from a safe, seated position and are demonstrated on the wall chart, which is included with the program. All exercises are low impact and use the chair's smooth resistance to work the arms, chest, shoulders, abdominal muscles, back and legs.
Opinions
The comments and opinions of those who have used the system are almost all overwhelmingly positive. Those who have tried the exercise chair have been thrilled not only to regain some of their strength but to develop more flexibility and balance as well.
Benefits of the Chair
The VQ Action Care Resistance Chair is a beneficial exercise tool especially for those who are recovering from surgery, illness or other infirmity. In addition, the chair is perfect for those who may not be able to remain on their feet for lengthy exercise routines.