FitDesk Review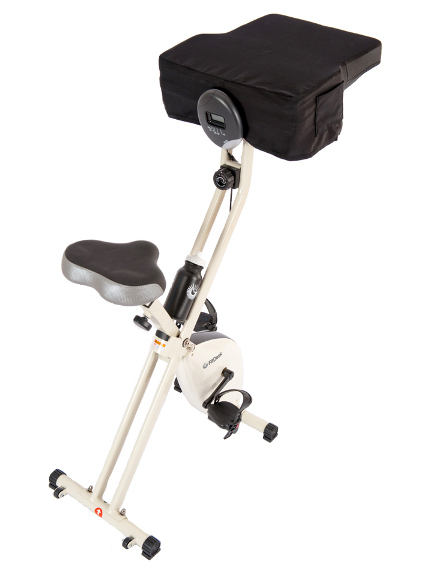 If you're someone who spends a high amount of time at an office chair and your weight and fitness level has started to reflect this fact, one piece of equipment that you'll definitely want to give some consideration to is the FitDesk.
More and more people are starting to realize all the harmful effects that sitting for extended periods of time can have on the body and are taking action to do something about it. That's precisely where the FitDesk comes into play.
Let's have a closer peak into what this piece of equipment is all about so that you can learn all that it offers.
What The FitDesk Is
The FitDesk is aimed at the working professional who struggles to fit in a regular workout session amongst their busy lifestyle and who is looking for an alternative.
If you hate going to the gym but yet also hate the fact that you're becoming less and less active as time goes on and are experiencing weight gain as well, the FitDesk will allow you to get in a workout session as you work.
This bike is designed to allow you to sit and surf the Internet, check your email, or connect with others on social media sites, all while you burn calories and get a terrific cardiovascular workout.
Best of all, it has an ultra-slim design that quickly folds away when you don't need it, so is very easy for storage purposes.
If you already have a mountain or competitive cycling bike of your own, no problem - FitDesk Pro is for you. This system allows you to mount your computer right on to that bike so that you can still receive the same great benefits of what the FitDesk has to offer on your favorite piece of machinery.
The Benefits To Using The FitDesk
By using the FitDesk on a regular basis, you'll significantly increase your total daily calorie expenditure, which will go a very long way to keeping your weight in check. In addition to this, you'll also improve blood circulation, reduce tense sore muscles due to greater physical activity, and many often notice they have an improved level of concentration and mental performance as well.
The FitDesk provides a non-impact way to enhance your leg strength, build up your cardiovascular endurance, and stay on top of your busy schedule at the same time.
The Final Verdict
All in all, if you're tired of skipped gym sessions, an increasing amount of excess weight, and feeling overall just unhealthy about the way you look, the FitDesk will help you change all that. Whether you choose to use it at work or in the comfort of your own home, you will be very pleased with the benefits that it will bring you and the quality high-quality nature that it's been built with.
---