Smooth CE 8.0LC Elliptical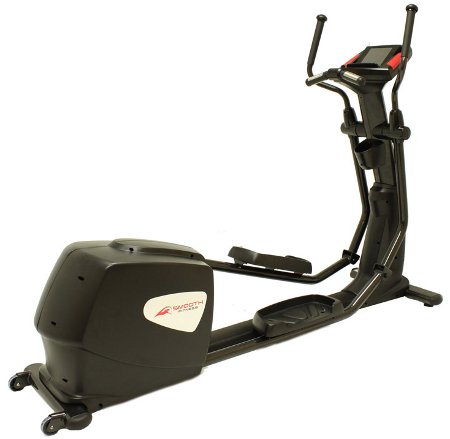 As elliptical machines are growing popularity among many people due to their low impact nature yet high calorie burning potential, more and more people are finding themselves turning to these machines to help them get their cardio workout completed.
Is the Smooth CE 8.0LC elliptical right for you? This is one of the higher class ellipticals on the market and if you are someone who is looking for an intense workout session, a product that will definitely be able to offer it to you.
Let's take a closer look at what makes the Smooth CE 8.0LC elliptical so special so you can decide if it's right for you.
The Quality Build
The very first thing to assess is the build of this elliptical. It is a commercial grade product, meaning that it could easily stand up to regular gym usage, however is designed to go straight into your home. It has the ability to accommodate to users up to 400 pounds and offers a natural and fluid motion pattern that makes your body comfortable as you go about your workout. Plus, with the oversized cushioned foot pedals that this machine offers, you'll never feel as though you're cramped while using it.
It provides you with a 21 inch stride length so that you can easily move throughout the pattern of movement with no worry.
The machine itself comes with a 10 year warranty on parts and a one year warranty for any in-home labour that must be done.
The Added Benefits
This elliptical trainer offers a back-lit LCD screen that quickly provides you with all the details of your workout so you can get the need to know information of how you're progressing. It'll provide you with information regarding your speed, time, reps per minute, distance travelled, total calories burned, your pulse rate, as well as your target heart rate.
It provides you with a total of 21 different programs that you can use as you go about creating your workouts to make things interesting and to ensure that your body is maximally challenged.
Finally, it also has a MP3 connection so you can easily listen to music as you use the machine. To make your workout even more comfortable, it also comes with a magazine rack as well as a built-in water bottle holder.
For anyone who lives in a small space, this elliptical will be perfect as you can also easily tilt the machine and push it directly into storage. Additionally, it also utilizes a lower step height than most elliptical machines do, which means it will work well for houses or apartments that have lower ceilings, or for the individual who stands much taller.
The Verdict
All in all, the Smooth CE 8.0LC Elliptical is a home workout machine that will provide you with a gym quality workout and fully challenge your muscles. With all the information it gives you regarding your workout progress, you can easily use this machine to help you reach your fitness goals.
---