The Ab Dolly Reviewed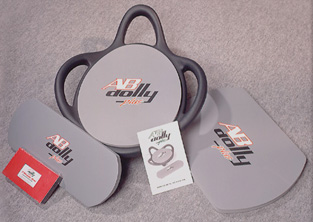 The Ab Dolly is very similar to the Ab Slide, Torso Tiger and Ab Force. All four machines work your abdominal muscles in the same way. There is one big difference however...
When compared by users it is generally acknowledged as more comfortable to use than similar, lower-priced machines. But the general consensus is that the extra comfort doesn't justify such a big difference in price.
A common complaint of all ab machines that operate like this is that they are difficult for beginners to use. In order to achieve the best workout it's important to move through a full range of motion which in itself requires a certain level of strength and fitness.
If you are very overweight you might find this product too difficult. There are other machines on the market that are more accommodating.
Unlike most ab machines, the Ab Dolly does work other muscle groups like your hips, thighs and buttocks. A lot of other products claim the same but to be fair the type of movement required will place considerable emphasis on other body parts.
Most infomercial products retail for considerably less online. Stick to the big, well-established stores like Amazon. It is hard to beat Amazon price and customer service is excellent. Placing an order is swift and efficient and all their products are backed by a 30day money back guarantee...
Our top pick for this type of ab machine is the Ab Slide. It's suitable for both beginners and advanced and is more reasonably priced...
Check out our Ab Slide review here
---