Schwinn 230 Recumbent Review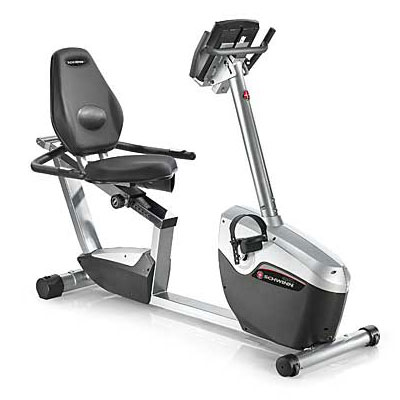 If bike riding in the convenience of your own home interests you, there are more than a few choices available to you. The original stationary bike was upright and offered little more than handle bars, a seat, and pedals. Welcome to the new world of fitness. A recumbent bike offers a unique bike experience. The word "recumbent" means "reclining" and is probably music to the ears of coach potatoes. While the recumbent bike is set in a reclining position, this fitness equipment offers its rider a good workout. One of its finest points is its low risk for injury. This equipment is often used in physical therapy because it is generally safe, offers a low-impact workout, and provides adequate support for the back and neck.
When you're looking for a recumbent bike, finding a name you can trust is probably an important criterion. Trusting the name Schwinn shouldn't prove difficult since this bicycle maker has been in the business of making quality bicycles for more than 100 years. The Schwinn 230 Recumbent Bike is its most recent upgrade in the 200 series of recumbent bikes. In addition to having a trustworthy brand name, the Schwinn 230 Recumbent Exercise Bike
offers many notable benefits and features.
Comfort and convenience are what set the Schwinn 230 Recumbent Bike apart from its competitors. The comfortable features of this bike include its foot pedals, handle bars, and dual-position lumbar seat, all of which are built using Bio-Fit technology. This is a type of engineering that combines both comfort and ergonomic science. What this means to you is that you are using equipment that is maximized for efficiency. You can forget about monotony while riding this recumbent bike. The unusually quiet operation and stable construction enable you to watch television or even read comfortably.
These days, combining convenience and fitness is almost a must. When performing an extended workout on the Schwinn 230 Recumbent bike, it is recommended that you drink plenty of water. There is no need to interrupt your workout. This bike includes a holder for your water bottle that is located just under the seat. There is also a rack under the display that holds reading material and a side storage area for magazines.
Once assembled, which shouldn't take the least mechanical-minded individual more than an hour, you can simply hop on the Schwinn 230 Recumbent Bike and start your workout. Of course, this is only using the least that this bike has to offer. You can choose from 16 resistant levels that offer a wide range of challenge, and 12 workout programs. The LCD display, with three adjustable levels, allows you to keep track of your progress by showing the distance you've traveled, how any calories you've burned, and how fast you're going. Whether your goal is to lose weight or to just stay fit, knowing this information can help you reach your goal.
The ultramodern styling of the Schwinn 230 Recumbent Bike is sure to complement any room. However, if you don't want it to become a stationary piece of furniture in your home, the transport wheels make moving it to a storage location a snap. The Schwinn 230 Recumbent Exercise Bike
is priced between $500-$600, a mid-range price for bikes of its class.