Recumbent Exercise Bikes Reviewed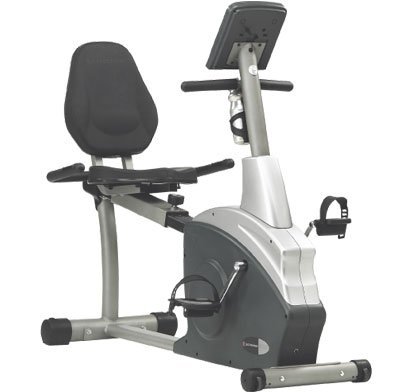 Recumbent exercise bikes overcome the discomfort that is associated with traditional upright bikes. Spending any longer than 15-20 minutes on a saddle is a challenge for most people. People who are overweight or suffer from lower back problems find it particularly unpleasant.
The armchair-like seats found on this equipment supports the lower back and disperse the pressure of the upper body on the buttocks. Overweight and older individuals often find it difficult to balance on a small saddle and to place their feet in the stirrups. Recumbent bikes overcome both these problems.
Although the recumbents tend to be more bulky than their upright counterparts, they rarely take up more floor space. And if you're the kind of person that likes to read a book or magazine or even watch the television while you exercise then you'll find it easier in a reclined position.
These are not recommended for most seasoned road cyclists. The movement pattern and ergonomics provide a completely different feel. But for most people who simply want to improve their health and fitness comfortably they are the preferred choice.
---
Recumbent Bikes to Consider
When it comes time to make your purchase make sure price is not the only factor. Here, the most important factor is to go with a big name that will support there product. I always compare the competitors to Schwinn© brand recumbent bikes. Get in shape fast. Shop now.
---
Schwinn 230 Recumbent Exercise Bike
Highly Recommended.This model is an excellent mid-priced model. Check out our full review
---
Vision Fitness R2050
It may cost a little more than the Schwinn models featured here but is well worth a look.
---