Smooth Fitness 525 Treadmill
The treadmill continues to be popular fitness equipment for people interested in working out at home. It is typically easy to set up and is suitable for just about anyone. In the past, one downside of this equipment was the amount of space it required. People with limited space often had to pass up the treadmill. Nowadays, treadmills include wheels and some type of mechanism that enables you to fold them up and store. The Smooth Fitness 5.25 Folding Treadmill is one such treadmill.
The folding mechanism on some treadmills can be unsafe. On these treadmills you have to lift up the deck and secure it with a clamp. Depending on your strength, the deck may be too heavy to life on your own on a regular basis. There is also the potential for the clamp to give away and cause the deck to fall down with tremendous force. The Smooth Fitness 5.25 Folding Treadmill offers a more delicate approach to storing a treadmill. The equipment is made with a soft drop mechanism that allows you to easily position the deck in any one of 15 positions, according to the space where you want to store the equipment.
The Smooth 5.25 Folding Treadmill is the bottom grade treadmill that Smooth Fitness offers. You can obtain more features and options with other Smooth treadmills. However, if you're interested in a treadmill that enables you to perform a good walking or running workout and your budget is tight, this treadmill is sufficient. It includes six programs; the same number as the high grade Smooth Fitness treadmill. The six programs allow you to workout with a specific goal in mind. For example, if you are interested in training for a 5K, you can set the Smooth 5.25 treadmill to the P5 program and allow the equipment to automatically adjust its incline and speed to mimic what it typical for a 5K. If at any time during the pre-programmed workout you feel you need more or less incline or speed, you can easily adjust those settings during the workout.
The other preset workout programs cater to workouts for weight loss, heart rate training, and speed and interval training. There is also a Quick Start workout program that enables you to enjoy a basic preset workout. For all of the preset workout programs you can make changes to the incline and speeds while you are in the midst of the workout.
The Smooth Fitness 5.25 treadmill includes other commendable features. The continuous motor that provides horsepower of 2.5 is nothing to sneeze at. The top-of-the-line treadmill that Smooth Fitness offers has a horsepower of 3.0, but 2.5 should suffice for most types of walking or running workouts. An impressive feature of the Smooth 5.25 treadmill is its speed range. You ca set the treadmill to operate at a speed as low as 0.5 or as fast as 10 miles per hour. This makes the treadmill suitable for beginners as well as advanced walkers and runners.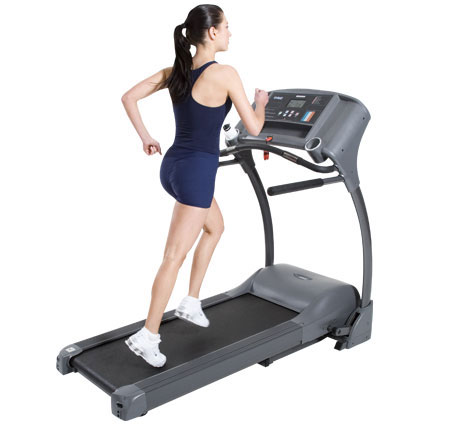 The Smooth 5.25 treadmill has received positive reviews from users. The treadmill is perfect for users who want a treadmill that offers walkers and runners a variety of workouts without having to spend a lot of money. The treadmill costs about $1000.
Smooth Fitness has been in the business of providing home fitness equipment since 1984. In addition to treadmills, the company also manufacturers ellipticals. You can find their fitness equipment at retail locations, but a majority of their business is conducted on the Internet.
The Smooth 5.25 Folding Treadmill is getting replaced by the 5.65.