Spirit XBR25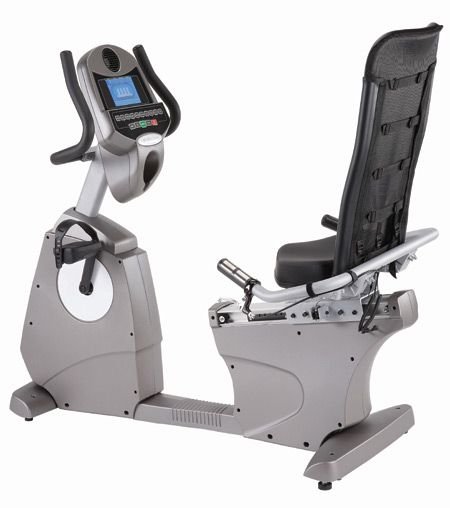 The good news about residential fitness equipment is that many of the machines are designed to be comparable to some form of outdoor exercise. Cyclists who want to exercise indoors and obtain the same cardiovascular and muscle toning benefits they receive from riding a normal bicycle have two main options: upright or recumbent. While each type offers significant benefits, a recumbent exercise bike is considered most suitable for varying levels of fitness. People who have been inactive for quite some time or who are recovering from an injury can hop on a recumbent bike (with recommended approval from their doctor, of course) and start an exercise program.
There are several recumbent exercise bikes on the market. One important difference in the Spirit XBR25 is the number of resistance levels. The XBR25 allows you to choose from 20 resistance levels, which is more than the average recumbent bike that provides around 16 resistance levels. The really good news about the resistance levels for the Spirit XBR25 is that they are broken into distinctive sets of five. People who haven't engaged in physical activity for a while or who need a very low workload, will benefit from the first five levels. Resistance levels 6-10 offer a bit more challenge than the first five levels. Resistance levels 11-15 are more suitable for people who regularly exercise and are able to sustain a strenuous workout. Resistance levels 16-20 are the toughest and are most suitable for individuals who are training for a particular sport or want a short-term, highly physical workout.
Another unique feature of the Spirit XBR25 is the foot pedal design. The Q factor (the width between the foot pedals) for recumbent bikes is typically larger than a road bike to compensate for the various mechanical parts. The foot pedals on the Spirit XBR25 are smaller than any other recumbent bike, and are designed to tilt inward. This unique design ensures that your alignment remains in a neutral position and that you are comfortable during your workout.
People who weigh more than 300 pounds are often hard-pressed to find a fitness machine that can withstand their weight. The Spirit XBR25 machine is built to hold up to 350 pounds, 50 pounds more than most fitness equipment.
The Spirit XBR25 console displays common information, including total workout time, total calories and total fat calories burned, and speed. You can program the system with your personal information (age and weight) and manually select the controls as you workout. If you prefer, the machine has five preset programs (Hill, Fat Burn, Cardio, Strength, and Interval). There are two User programs that you can customize with your own personal workout settings. The equipment also includes two heart rate control programs that modify the resistance level according to your maximum heart rate and whether you are interested in losing weight or cardiovascular training.
Recumbent bikes for residential use are often positioned in a place and remain there for an extended period of time. The Spirit XBR25 includes front transport wheels that make it easy to move the equipment at will.
Spirit Fitness manufactures the Spirit XBR25 exercise bike. The company has manufactured fitness equipment all over the world since the mid 1980s. In addition to recumbent bikes, Spirit Fitness also manufactures elliptical trainers and treadmills for commercial and home use.
Fitness experts and at least one consumer advocate magazine give the Spirit XBR25 high marks. The general consensus for the Spirit XBR25 from customers is that the equipment offers benefits for a wide range of users. The feature that people dislike most about the Spirit XBR25 is its price (about $1200).
EER gives the Spirit XBR25 a thumbs up. The equipment is a bit expensive as far as recumbent bikes go (the average cost is under $500), but we believe that its benefits are worth the cost. The equipment is suitable for a wide range of users and is designed to provide a safe and comfortable workout.