Star Trac eSpinner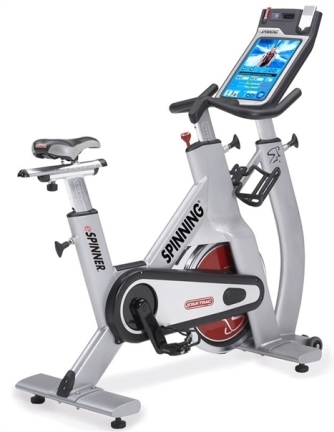 Riding a bicycle can provide a good cardiovascular workout, as well as tone your lower body. While there are a growing number of people taking their bikes to the street, there are just as many joining Spinning classes. Spinning is a popular indoor cycling form of exercise that is usually performed in a group setting in a commercial facility, such as a gym. Recently, this activity has shifted so that people wanting to "spin" alone or in a private setting can choose to do so. The Star Trac Spinner is a machine that offers people an opportunity to obtain the benefit of spinning in the privacy of their own home.
In addition to providing the same equipment, the eSpinner mimics a Spinning class. There is an embedded training program that you access from the machine's dashboard. All that is required is of you is to use the touch screen system to select a time (20 minutes to one hour) and level of intensity. The dashboard functions as a motivational device by driving you to constantly improve your level of performance. This embedded computer system in essence enables you to create thousands of different spinning experiences.
The design of the eSpinner is built on the NXT platform, which seeks to mimic riding a bike on the road. The machine includes reversible pedals and is Shimano Pedaling Dynamics (SPD) compatible. These pedaling features are designed to help keep your foot steady while you exercise.
The eSpinner has some nice extras. You can connect an iPod and watch movies or listen to music. The equipment is designed with the Smart Release system, which basically means that you can easily and safely impede the bike's motion. As with most of its other fitness machines, the eSpinner includes a personal fan and a heart rate monitoring system. You can easily control the speed of the fan, or if you prefer not to have the cooling air, you can switch it off.
Star Trac may not be one of the top three manufacturers of fitness machines, but the company does have a stable position in this very competitive market. The company has offered fitness equipment since 1974. In 2006, Star Track partnered with Mad Dogg Athletics, Inc (the creators of the Spinning® program) to produce the computer that accompanies all Spinner® bikes.
The reviews for the eSpinner are generally positive. A common positive statement about the machine is that there are more than enough workout programs. Price is the most common complaint that most people have about this machine (the eSpinner costs about $4000).
EER considers the eSpinner stationary bike a good machine that people of varying fitness interests and experience will appreciate. The price is on the upper level of comparable equipment, but we believe the number of programs available with this machine make it a machine that is capable of growing with an individual or family.