Ab Force Reviewed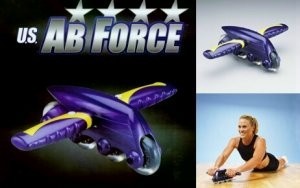 The Ab Force is about as simple as you can get. Basically it's just a roller blade with handles... something to bear in mind when retailers pitch it as the lowest priced abdominal exerciser.
It's also very similar to the Ab Dolly, Ab Slide and Torso Tiger. If you're willing to look round you'll find it for under $20 but then the Ab Slide and Torso Tiger are only slightly more.
There are quite a few customer reviews that report this one is difficult to use. Because the roller blade wheels are so thin it's difficult to balance. Remember half of your body weight is being placed over a very small surface area so if you are particularly heavy consider an alternative. There's not much more you can say about this one... what you see on TV is what you get, except it's more difficult to use than they make it look!
About the lowest price you'll find for this gem is at shop.com. They sell on infomercial products and for considerably less than on the TV. More importantly they are well-established enough to offer efficient order processing and effective customer service...

---